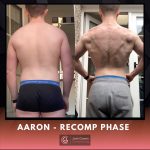 Online Coaching
"To say i'm happy with the programme is an understatement. Professionals like Josh are diamonds in the rough these days. It's been worth every cent" Angie, 2019
Please scroll down to take a look at a brief intro video to Online Coaching!
The most important part of a transformation is accountability. Having someone to be held accountable to. Someone who brings the best out in you. Someone to rotate training programmes, manipulate caloric and macronutrient targets and evaluate progress week to week in order to push you closer and closer to your desired physique. Someone who will be there day and night to help motivate and guide you every step of the way. Someone who is there to listen.
I will analyse and evaluate where we are at the moment, create a picture and a timeline of where I can envisage us getting to. Then, I will set up a bulletproof blueprint to work from, regarding tailored meal and training plans.
You will receive personalised video check ins from me every single week and check in messages through the week, where we evaluate your biofeedback, objective and subjective measures to make sure we are on track. I will steer the ship, and make changes and manipulations when need be to push us in the right direction.
I have found over the years, my results produced through online coaching, are far greater than 1 to 1 on the gym floor as I can really connect with you and get the best out of you.
It all starts with a relaxed initial online consultation. Please enter a coaching application below to get started!
I look forward to having you join the team.